Unleash your inner sommelier with Vivino for iPhone, the global powerhouse of wine apps and marketplaces. Vivino is your pocket-sized companion, designed to help you navigate the world of wine with confidence and style. Vivino is not just an app – it's a vinous community, sharing a mutual love for the grape.
In the vast, sometimes intimidating world of wine, Vivino simplifies the process. Snap a picture of any wine label or restaurant wine list and gain instant access to invaluable insights: ratings, reviews, price points, tasting notes, even delectable food pairings. The world of wine wisdom is right there at your fingertips, ready to guide you in your selection.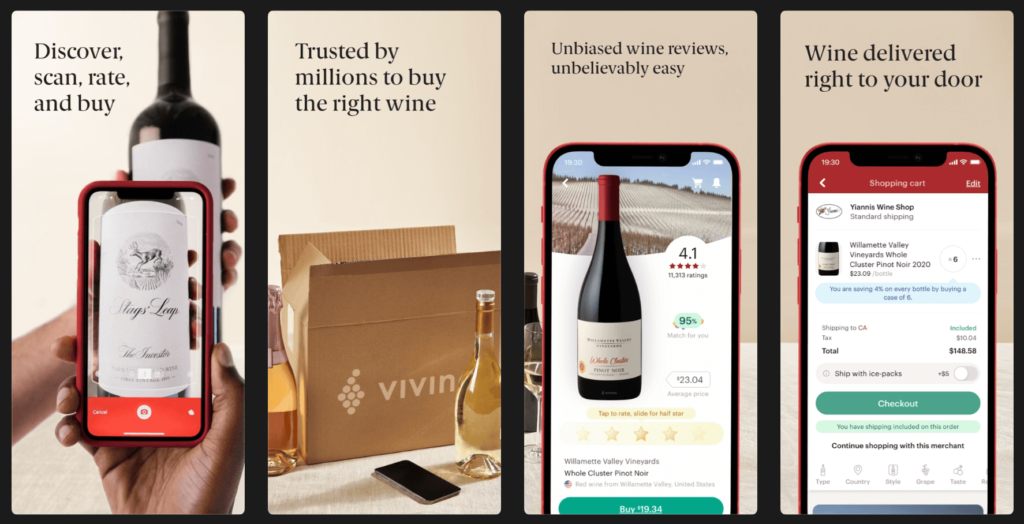 Find a wine that tickles your taste buds? Tap to purchase your new favourite bottle directly through the app or on Vivino.com. With a hassle-free, two-click checkout process, Vivino Checkout ensures buying wine has never been more straightforward.
But it's not just about buying wine; it's about curating a journey. Rate and review your wine experiences, keep track of your preferred labels, and uncover personalized recommendations. Let Vivino's smart recommendation engine serve up suggestions tailored to your unique palate, a virtual sommelier who knows exactly what you love.
With Vivino, your iPhone transforms into a portable wine cellar. It remembers your purchases, keeps you organized, and even helps you uncover your unique taste profile. Moreover, it shows you how your preferences stack up against friends and the wider Vivino community, adding a social dimension to your wine appreciation.
Vivino's impressive stats speak for themselves: over 50 million downloads, a catalog of 13 million wines from 231,000+ wineries, millions of unbiased reviews and ratings, and hundreds of thousands of wines available for purchase in 17 global markets. These figures don't just illustrate the popularity of the app – they underline the vast wealth of knowledge, experience, and variety Vivino brings to its users.
The app is also equipped with handy features like the Quick Compare and Wine List Scanner. These tools enable you to scan multiple wine labels or an entire restaurant wine list in seconds, helping you make informed decisions quickly. Never again will you need to take a shot in the dark when choosing a wine.
Lastly, Vivino offers a unique 'Taste Characteristics' feature, providing a word cloud that represents the most common descriptors for each wine. It's like having a peek into the tasting notes of thousands of fellow wine drinkers before making your purchase.
In a nutshell, Vivino for iPhone is more than just a wine app – it's your personal wine mentor, sommelier, and social club all rolled into one. Join the world's largest wine community today and let Vivino empower you to enjoy wine to the fullest. You can download Vivino for iPhone here.