Unlock the door to a smart home lifestyle with the power of your iPhone, Apple Watch, iPad, and more. The Home app, now with a reimagined design, is your ultimate dashboard for controlling all your smart home devices right at your fingertips.
Ever dreamed of commanding your home like a starship? The Home app lets you navigate your smart abode effortlessly. You can promptly access and control all related accessories with categories for climate, lights, security, speakers, TVs, and water. Flip on your lounge lights, adjust the thermostat, or get your sprinklers working – all from one place.
Enhance your security system with the multi-camera view. You can monitor up to four cameras simultaneously from the Home tab, providing comprehensive surveillance at a glance. Just a swipe away, you'll find any additional camera feeds.
Say goodbye to manual controls, let Siri be your personal home assistant. Utter a command like "Lock the front door," "Play jazz in the living room," or "Good night" to switch off your lights.
Moreover, the Home app goes beyond HomeKit and embraces devices compatible with the Matter smart home connectivity standard, presenting a seamless blend of smart accessories that you can manage effortlessly.
Need instant updates from your home? The Lock Screen widgets give you live status updates and allow quick access to accessories. The Control Center adds another layer of convenience, giving instant access to your favorite accessories and scenes.
With the Home iPhone app, every corner of your house can echo your favorite tunes. Add a HomePod or other AirPlay 2-enabled speakers to orchestrate a musical experience that flows from room to room.
Not just that, your HomePod and Apple TV evolve into a home hub when you're away. They can automatically run scenes, control accessories based on location, time of day, sensor detection, or accessory action.
Keep an eye on your domain with HomeKit Secure Video. It sends rich notifications when it detects people, pets, vehicles, or package deliveries, offering a 10-day recording history viewable in the Home app.
Amp up your lighting with Adaptive Lighting. This feature adjusts the color temperature of compatible lightbulbs throughout the day, ensuring optimal comfort and productivity. Start the day with warm tones, stay alert with cooler midday hues, and relax to a tranquil, blue-light-free evening.
And the cherry on top? Digital home keys! Lock or unlock compatible door locks by merely holding your iPhone or Apple Watch nearby.
The Apple Watch Home app brings convenience to your wrist. It displays relevant accessories for immediate access, with a detailed view of favorites, cameras, and rooms.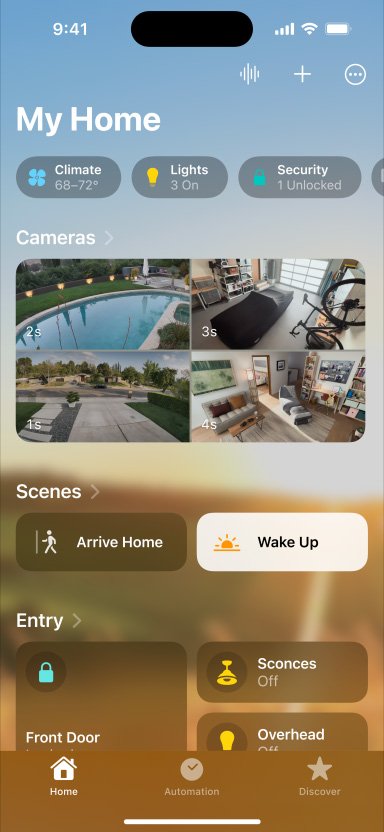 So, buckle up and let the Home app for iPhone turn your living space into an intelligent, adaptive environment that responds to your every command. Welcome to the future of living!
Download the Home app for iPhone here for free.
Check out the Level Lock+ review on the Apple Watch Apps news site WatchAppList.