Apple has just released a game-changing high-yield savings account for Apple Card users, offering a 4.15% APY. This new account, backed by Goldman Sachs, allows users to grow their Daily Cash rewards effortlessly, while enjoying a rate that's more than 10 times the national average. Currently available only in the US, this feature enhances the overall Apple Card experience, adding even more value to its users' financial lives.
Easy Account Management with No Fees and No Minimums
Setting up and managing the high-yield savings account is a breeze, thanks to Apple Card's seamless integration with the Wallet app on the iPhone 14. With no fees, no minimum deposits, and no minimum balance requirements, Apple Card users can start saving effortlessly.
Enhance Your Daily Cash Rewards
Apple Card users can now choose to grow their Daily Cash rewards by automatically depositing them into their new high-yield savings account. According to Jennifer Bailey, Apple's vice president of Apple Pay and Apple Wallet, "Our goal is to build tools that help users lead healthier financial lives, and building Savings into Apple Card in Wallet enables them to spend, send, and save Daily Cash directly and seamlessly — all from one place."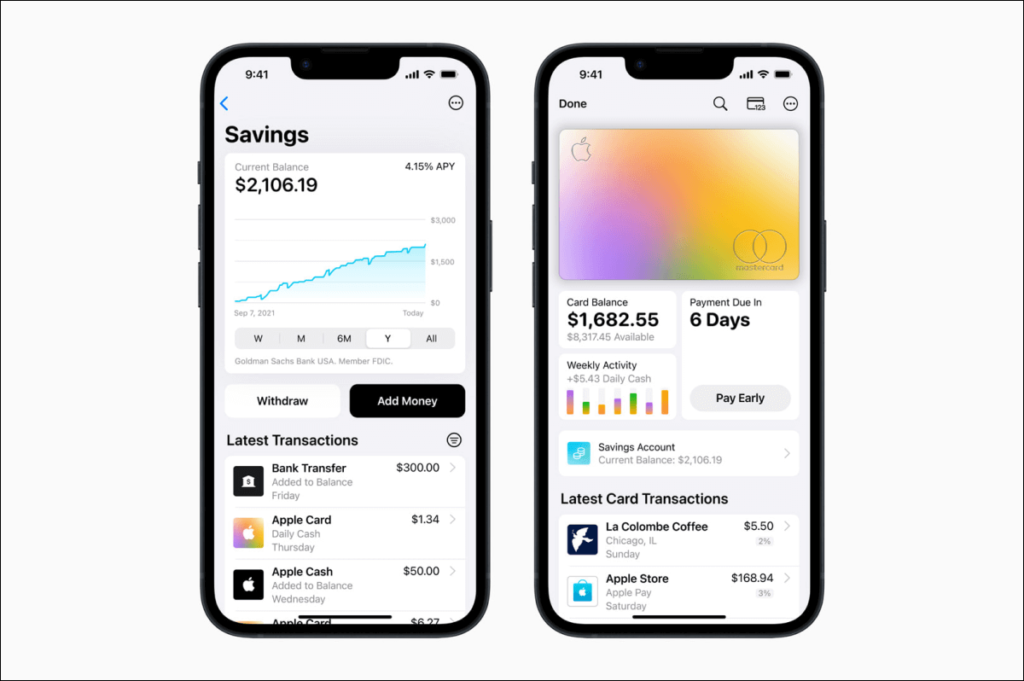 Flexible Deposits and Withdrawals
Users can further build their savings by depositing additional funds from a linked bank account or their Apple Cash balance. With no limit on how much Daily Cash users can earn, the possibilities for savings growth are endless. To access their savings, users can easily withdraw funds through the Savings dashboard by transferring them to a linked bank account or their Apple Cash card, with no fees.
Comprehensive Savings Dashboard
The Wallet app features an intuitive Savings dashboard, allowing users to track their account balance and interest earned over time. This user-friendly interface ensures that Apple Card users can stay informed about their savings progress at a glance.
Financial Health and Security with Apple Card
The new high-yield savings account builds on the already impressive financial health benefits offered by Apple Card. With no fees, Daily Cash on every purchase, and tools that encourage users to pay less interest, Apple Card provides a comprehensive financial solution. Furthermore, the savings account upholds the privacy and security standards that users have come to expect from Apple.
In a nutshell: Elevate Your Savings with Apple Card's High-Yield Savings Account
Apple Card users can now enjoy unparalleled savings growth with the new high-yield savings account from Goldman Sachs. With an impressive 4.15% APY, easy account management, and flexible deposits and withdrawals, this new offering empowers users to take control of their financial lives. Make the most of your Apple Card experience and start saving with this remarkable high-yield savings account today!