Get ready to step into the world of digital fashion and revolutionize your wardrobe with the incredible DressX iPhone app! With this groundbreaking app, you can experience the latest styles, shop exclusive collections, and even try on outfits virtually before making a purchase. Say goodbye to the old ways of shopping and embrace the future with DressX.
The LA-based DressX iPhone app was built by Ukrainian founders Daria Shapovalova, Natalia Modenova, and Yulia Krasniienko. Until today, it raised $19.2M according to Crunchbase, with $15M raised more recently.
DressX is your all-access pass to an endless world of digital fashion. Gone are the days of scouring through racks of clothing, trying on endless outfits, and dealing with the hassle of returns. With the DressX app, you can explore and purchase the latest trends, exclusive designer collections, and unique pieces, all from the comfort of your iPhone. The app uses innovative augmented reality (AR) tech to provide you with a seamless and interactive shopping experience.
One of the standout features of the DressX app is its virtual fitting room. This innovative tool allows you to try on outfits virtually, ensuring a perfect fit every time. Using your iPhone's camera, the app creates a 3D model of your body that can be dressed up with the digital garments available on the platform. You can mix and match outfits, experiment with different styles, and even share your virtual looks with friends on social media, all without leaving the app.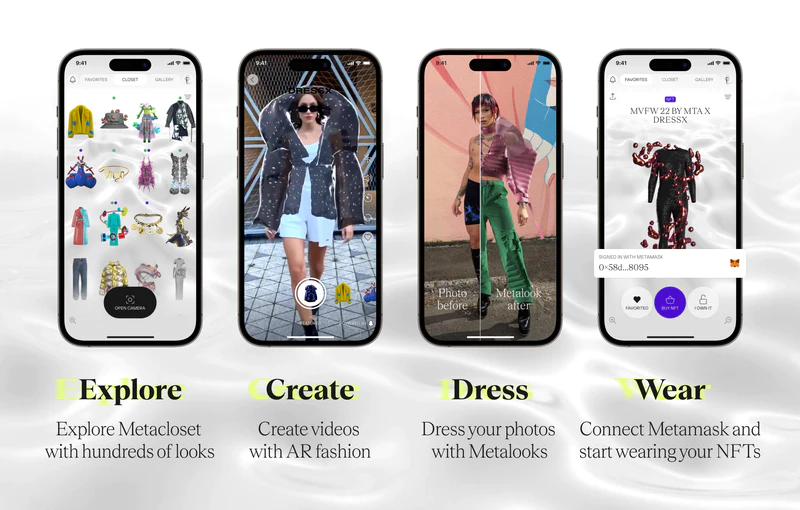 Another fantastic feature of the DressX iPhone app is its curated collections. DressX collaborates with well-known designers and up-and-coming fashion talent from around the world to bring you exclusive and unique digital fashion pieces. These collections are updated regularly, ensuring that you always have access to the latest and most exciting fashion trends. Plus, the app's user-friendly interface makes it easy to browse and shop for your favorite pieces.
The DressX app also offers a sustainable and eco-friendly approach to fashion. By focusing on digital garments, DressX helps to reduce the waste associated with traditional fashion production and consumption. With the DressX iPhone app, you can indulge in your love for fashion while still making a positive impact on the environment.
In addition, DressX features collaborations with popular brands and influencers, providing you with a unique opportunity to purchase limited-edition digital clothing designed by your favorite fashion icons. These collaborations are frequently updated, giving you access to fresh and exciting styles that can't be found anywhere else.
Don't worry about compatibility, as the DressX iPhone app is designed to work seamlessly with all iPhone models, from the iPhone SE to the latest iPhone 13 Pro Max. The app is regularly updated to ensure compatibility with new iOS releases and to provide users with an optimal experience.
Download the DressX iPhone app here for free, and upgrade your digital wardrobe today!