If you're like most iPhone users, you're probably running out of storage space due to the thousands of photos, videos, and screenshots that are taking up precious memory. The problem is, not every photo or video is worth keeping, but going through your photo library to find the good ones and delete the rest can be a daunting task. That's where Gemini Photos by Ukrainian (donate here) software company MacPaw comes in.
Gemini Photos is an app that makes it easy to clear your iPhone of unwanted photos and videos. With just a few clicks, the app will scan your entire photo library for blurry photos, identical duplicates, photos containing text, and more. It can even scan for good photos, such as those you've edited, favorited, or where people are smiling and have their eyes open. Gemini Photos can also identify not-so-good photos, including blurry photos and photos where people have their eyes closed.
One of the premium features of Gemini Photos is its ability to look for similar but not identical photos. This is a great feature for those who take a lot of photos and often end up with several that look almost the same. The premium version of the app costs $4.99 per month, $19.99 per year, or $34.99 for unlimited access, but there is a 3-day free trial available to test it out.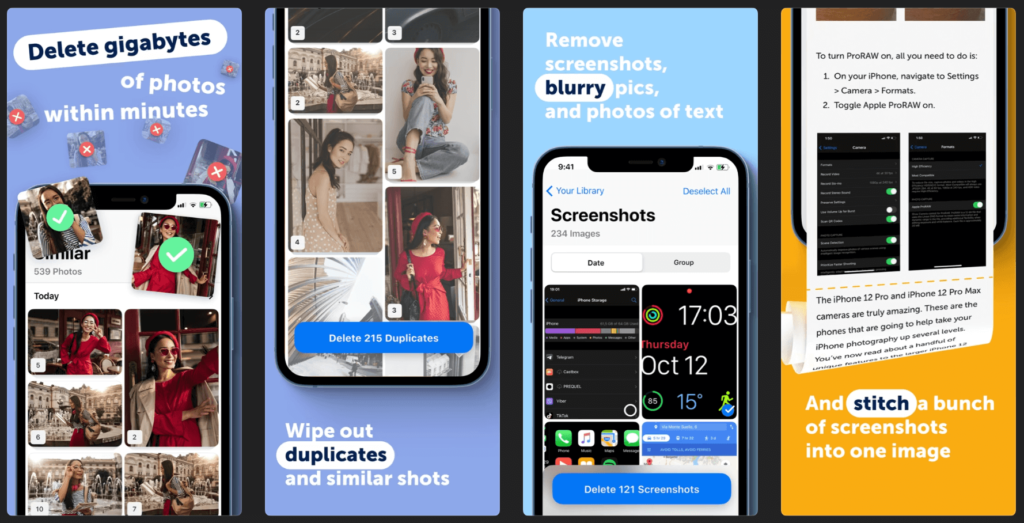 Once Gemini Photos has scanned your photo library, you can easily choose which photos and videos to keep and which to discard. You're in complete control, so you don't have to worry about losing any photos or videos that you actually want to keep.
Gemini Photos has been around for a few years and has continued to improve over time. Its ability to detect good and bad photos and to weed out similar looking photos from different photos that just happen to look the same has improved significantly. Many users have reported that the app has saved them tens of gigabytes of storage space and prevented the need to purchase expensive iCloud storage or a new iPhone.
In summary, the major benefits of the Gemini Photos app are:
Quick and easy to use: Scans your entire photo library in just a few clicks.
Identifies and removes unwanted photos: Finds blurry photos, identical duplicates, photos containing text, and more.
Identifies good and bad photos: Separates the photos you want to keep from those you don't.
Premium feature to identify similar photos: Helps you further free up space by finding and removing similar but not identical photos.
Cost-effective: The app is affordable and can save you money in the long run by preventing the need for expensive iCloud storage or a new iPhone.
If you're struggling with storage space on your iPhone and need a quick and easy way to free up gigabytes of storage space, Gemini Photos is the app for you. Download it here for free.