Life is about giving back. One of the best ways to help and give back to different causes is to donate to local charities, that know their local communities and what they actually need. There are many options to support local charities and volunteers, from direct donations, to GoFundMe campaigns, to Patreon, or contributions through BuyMeACoffee. However, many existing platforms lack a key social aspect, and don't really encourage others to contribute too, making it harder than necessary to spread the word. Sharing every single cause you care about always takes a lot of effort. The Donut app solves this, making direct donations to charities super simple, social, and fun.
Discover Causes You Care About
The Donut Team with its Ukrainian founders, has vetted many amazing charities all around the globe, including in Ukraine, Israel, the US, as well as many other countries, where small and big contributions can go a long way. Charities can directly apply to be listed on the Donut platform.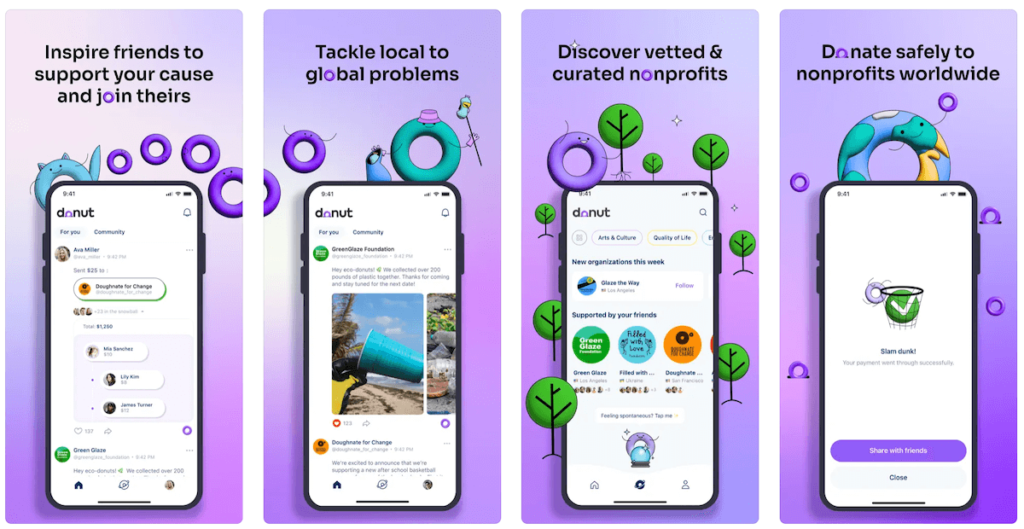 Check-In On The Progress

What's great for charities and donors alike, is that charities can directly share their progress and contributions to a timeline, so donors can easily see the impact their money is making. And this is indeed amazing, isn't it? You contribute $20 to a small charity, and then see the impact your small contribution made. That's how it should be! The Donut app makes it amazingly simple to track the progress of those charities, and connect deeper with their donor base.
The Snowball Effect
One of Donut's most innovative features is the Snowball. Imagine a world where small donations can create significant impact. With the Snowball feature, you can fundraise with friends, and directly see who is donating how much. You donated $100, another friend added another $20, and so on. In the end, it's a fun way to set an avalanche of donations in motion, one snowball at a time. Yay!
Contribute To Causes You're Passionate About
Many of the vetted charities already post regularly on Donut for iPhone. This makes the decision-making process of which charities to give to easier. See what your friends and others are doing, and pick your favorite causes.
Local Impact, Global Reach
Local communities often know best, when it comes to solving problems in the areas they live. Donut connects any donor with these communities, creating a real bond from the beginning. For example, how awesome is it that a local Ukrainian charity that helps people who suffer under Russia's brutal war, can reach a global community of volunteers who are ready to help, and add a couple dollars to their cause.
Donut provides a sense of togetherness, allowing you to join like-minded individuals committed to making a change. It allows you to connect directly with nonprofits, so you can see your financial support turn into real progress on the ground.
In A Nutshell
Donut isn't just another platform for talking about problems. It's all about solutions. The app makes donations to local charities fun, social, and impactful – which solves a critical issue. Instead of focusing on the problems, Donut facilitates a sense of community between charities and donors. This is engaging to all parties involved, and simply makes the world a better place!
You can download the Donut app for your iPhone here for free.