The podcasting universe has just significantly richer with the Fountain Podcast app for iPhone. Designed to energize the podcast ecosystem through Bitcoin and the Lightning Network, Fountain paves the way for an engaging, rewarding, and community-centric listening experience.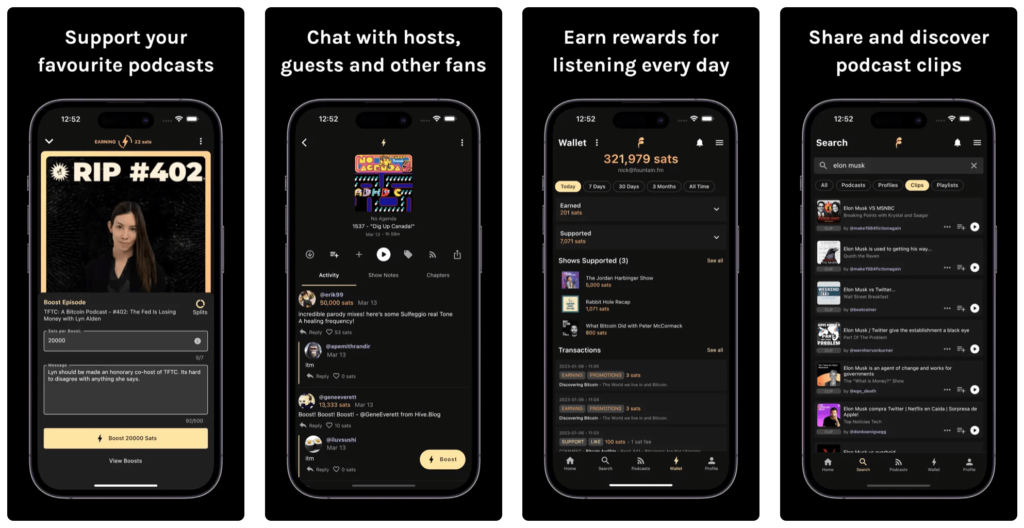 Fountain's driving principle – "giving back to your favorite podcasts" – beautifully underscores the mutual respect between creators and listeners. Unlike many other podcast apps, Fountain enables you to directly fund the shows you love, either by streaming Bitcoin sats per minute or by boosting with sats payments. What's more, this is accompanied by the ability to directly interact with hosts and their guests, fostering an environment where conversations flourish.
While supporting the creators, don't forget that Fountain rewards its listeners too. The more you engage, the more you earn. The daily earning rate is a fun, random surprise and it's even possible to accrue more by listening to promotions (these are ads). Interestingly, you can choose to either withdraw your earnings or use them to fund your favorite podcasts, furthering the sustainability of the podcasting community.
Fountain is a vibrant marketplace for knowledge. Its clip creation and sharing feature not only provide listeners the opportunity to curate key takeaways, but also pay them when their clips are liked by others. These clips can also be transformed into shareable videos with subtitles, amplifying their impact across social media channels.
The iPhone app's recommendation feature also comes with the promise of uncovering enriching content. By following friends, users get to view others' favorite clips and comments, and potentially discover their next favorite podcast. Coupled with the 'Hot on Fountain' charts, the discovery potential within the app is substantial.
For podcasters, Fountain is more than just a platform. It's a tool that can help turn fans into active supporters. It empowers creators with the ability to share income with guests and contributors, and the unique Fountain Promotions feature that bolsters audience reach.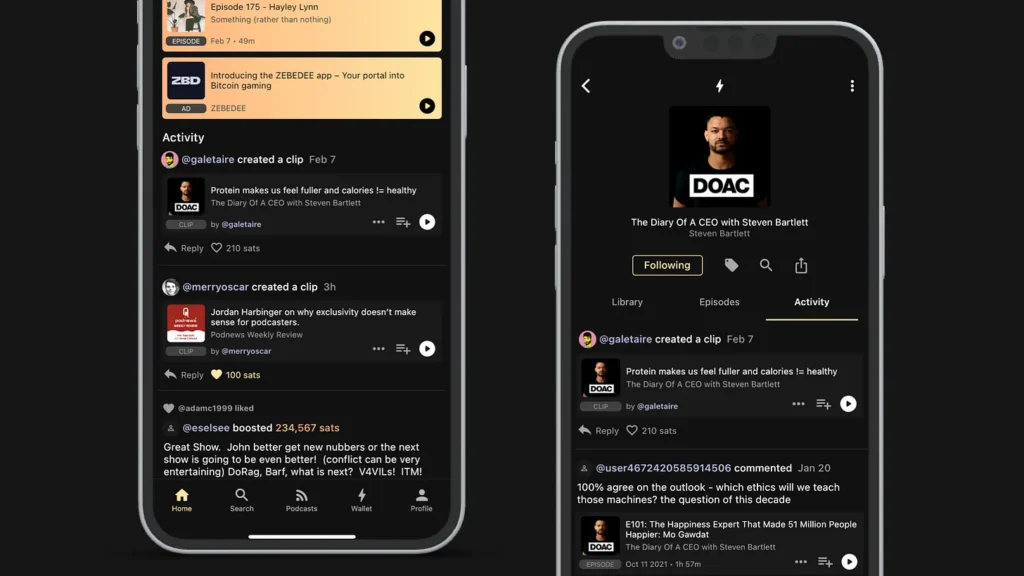 One of Fountain's most distinguishing aspects is its embrace of Bitcoin's Lightning Network. This fast, low-cost, and scalable transaction system is the engine powering Fountain's seamless monetary exchanges. It signifies an exciting frontier, not only for podcasting but for digital finance as a whole.
In a nutshell, Fountain is a milestone in the podcasting world. It's an app that provides an engaging and rewarding experience, backed by a vision that perceives the future of podcasting as a vibrant, Bitcoin-enabled ecosystem. Undeniably, Fountain is not just a podcast app that pays – it's an app that values.