The tech world stood still on September 12th, 2023, when Apple showcased the iPhone 15 Pro Max to the world. It was available to the masses by September 22nd, and as is customary, iFixit went hands-on with the latest tech marvel to give enthusiasts a closer look at the magic beneath its pristine titanium skin.
The New Wave of Pro
This year's model retains the visually captivating 6.7″ Always-On ProMotion OLED from the iPhone 14 Pro Max. However, its heartbeat has evolved, boasting the first-ever A17 Pro SoC. Apple's shift to the "Pro" name for its iPhone chips signifies the mammoth power they've packed into this device.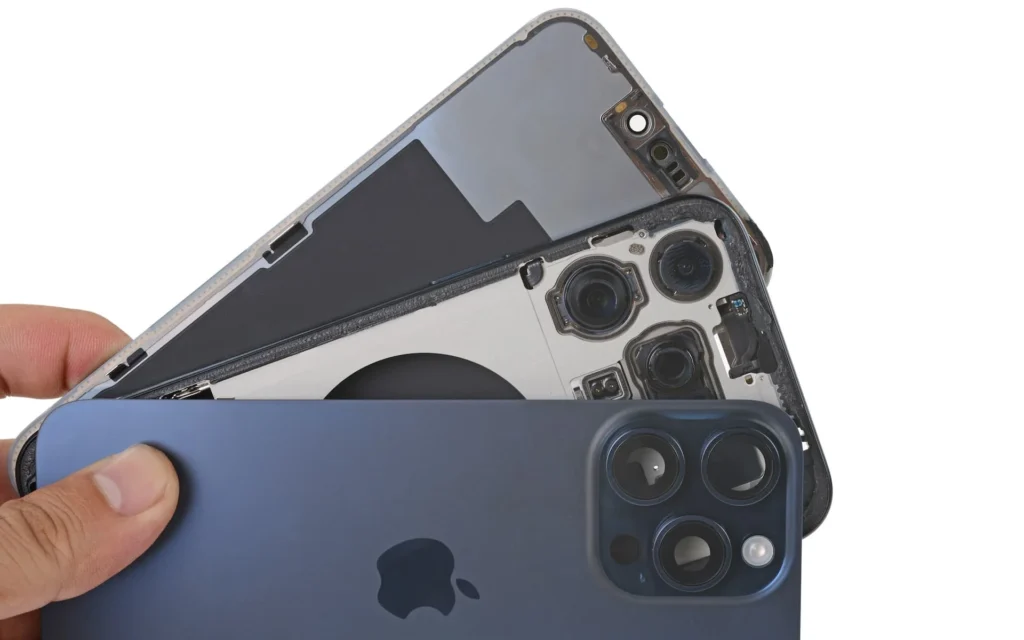 The Titanium Transition and More
It's not just about the internals; the iPhone 15 Pro Max received a significant exterior overhaul. The elegant stainless steel gave way to the robustness of a Grade 5 titanium alloy, rendering the device in four sophisticated finishes – Black Titanium, White Titanium, Blue Titanium, and Natural Titanium. But perhaps, one of the most talked-about changes is the farewell to the Lightning port, embracing the universal USB-C port. And remember the iconic ring/silent switch? It's been replaced with a programmable Action Button, a nod to Apple's drive for enhanced user customization.
Photography, Elevated
Camera aficionados will revel in the device's revamped camera system. A whopping 48 MP Main camera is paired with an Ultra Wide lens and a groundbreaking "tetraprism" 5x Telephoto lens. And the Dynamic Island, previously exclusive to the Pro line, now graces even the vanilla iPhone 15, cleverly concealing the top sensors and FaceTime camera.
Identifying Your iPhone 15 Pro Max
For those eager to confirm their device, a model number is subtly printed inside the USB-C port. The numbers A2849, A3105, A3106, and A3108 distinguish the various models for regions worldwide. Alternatively, the Settings app offers this info under General > About. Apple further assists with an online identification tool, ensuring users can easily identify their latest acquisition.
Technical Deep Dive
The iPhone 15 Pro Max, with its towering dimensions of 159.9 × 76.7 × 8.25 mm and weighing 221g, promises durability with IP68 water resistance. Powered by iOS 17, its A17 Pro chip boasts a 6-core CPU and GPU, supplemented by a 16-core Neural Engine, and a generous 8 GB RAM. Storage options stretch up to a colossal 1 TB. The powerhouse 4422 mAh battery claims an impressive 29 hours of video playback.
One of the standout features this year is the inclusion of a USB-C port, which aside from charging, supports reverse charging of accessories, DisplayPort functionality, and blazing-fast USB 3 data transfers up to 10 Gb/s. The 6.7-inch "Super Retina XDR" OLED display, shielded by the Ceramic Shield glass technology, promises an immersive visual experience.
In Conclusion
The iPhone 15 Pro Max is more than just an incremental upgrade. It's a symbol of Apple's relentless pursuit of innovation, pairing aesthetic elegance with robust technical prowess. As iFixit's teardown unveils, it's a masterful blend of art and engineering.