Discover the world's most-downloaded education app, Duolingo on your iPhone! This fun, free app offers 40+ languages through quick, bite-sized lessons, allowing you to practice speaking, reading, listening, and writing to expand your vocabulary and enhance your grammar skills. Join hundreds of millions of learners worldwide and prepare for real-life conversations in Spanish, French, Chinese, Italian, German, English, Ukrainian, and more, all at your fingertips.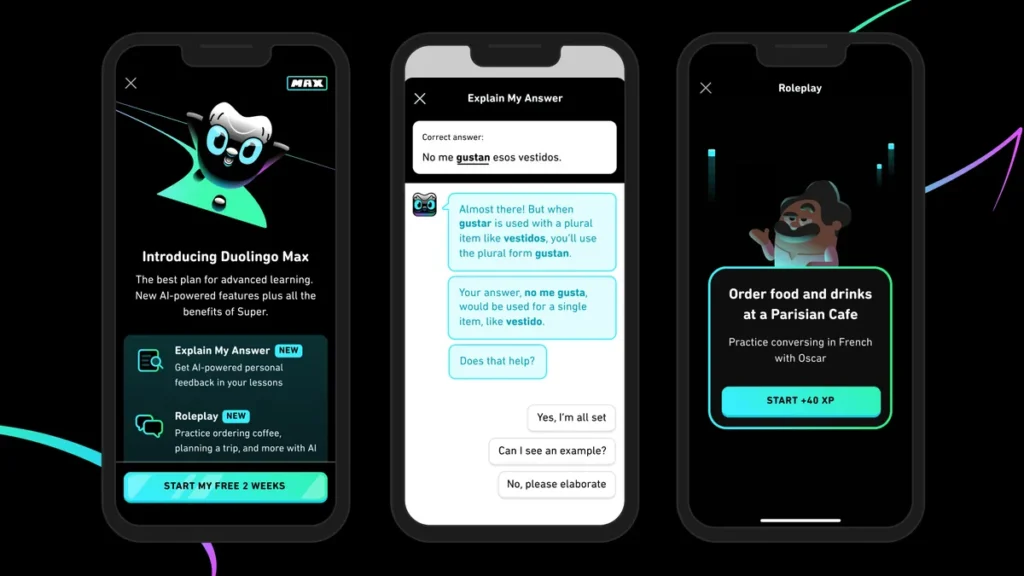 Duolingo offers a unique and effective learning experience, combining game-like lessons and lovable characters to help you develop solid speaking, reading, listening, and writing skills. Designed by language experts, Duolingo for iPhone boasts a science-based teaching methodology proven to foster long-term language retention. Track your progress with playful rewards and achievements, and make language learning a daily habit that you'll love.
Join a Global Community of Learners
Become one of the 300+ million learners who stay motivated through competitive Leaderboards, learning alongside a supportive global community. Explore a wide range of languages, from Spanish, French, German, and Italian to lesser-known languages like Esperanto, Welsh, and even High Valyrian – all for free!
Experience Duolingo to the Fullest with Super Duolingo
For an ad-free learning experience with added perks like Unlimited Hearts and Monthly Streak Repair, try Super Duolingo for a 14-day free trial. If you choose to purchase Super Duolingo for iPhone, your Apple account will be charged, and the renewal process will occur within 24-hours prior to the end of the current period. You can easily manage or cancel your subscription through the App Store settings.
Duolingo Max
Duolingo Max is an innovative subscription tier above Super Duolingo, utilizing the groundbreaking GPT-4 technology from OpenAI to provide highly-personalized language lessons. After months of collaboration with OpenAI, Duolingo Max offers two brand-new features and exercises: Explain My Answer and Roleplay, both powered by the latest generative AI technology. By combining AI and education, Duolingo Max aims to make high-quality language learning accessible and affordable for everyone.
Maximize Your Learning with Explain My Answer and Roleplay
Duolingo Max includes all the benefits of Super Duolingo, such as unlimited hearts, no ads, and personalized review through the Practice Hub. Additionally, it introduces two new AI-powered features: Explain My Answer and Roleplay. Explain My Answer helps learners understand the reasons behind correct or incorrect answers, offering clarifications and examples for better comprehension. Roleplay, on the other hand, allows learners to practice real-world conversation skills with in-app characters through various scenarios, such as ordering coffee in a Parisian café or discussing future vacation plans. After each interaction, learners receive AI-powered feedback from Duo, helping them improve their accuracy and complexity in future conversations. By incorporating AI into the learning experience, Duolingo Max ensures that no two conversations are exactly alike, providing a unique and immersive language learning experience for every learner.
Learn a language for travel, school, career, or personal development with Duolingo for iPhone – the ultimate language learning app that will keep you coming back for more. Download Duolingo for iPhone today and begin your linguistic journey!
And finally, here's a Duolingo Meme (from Reddit).